Watford Junction to Liverpool Street
On uk.transport.london recently (April 2005), there was some discussion of the old Broad Street station (now part of Liverpool Street) and its connection to the North London Line. One observation was from Rupert Candy, who contributed this photo: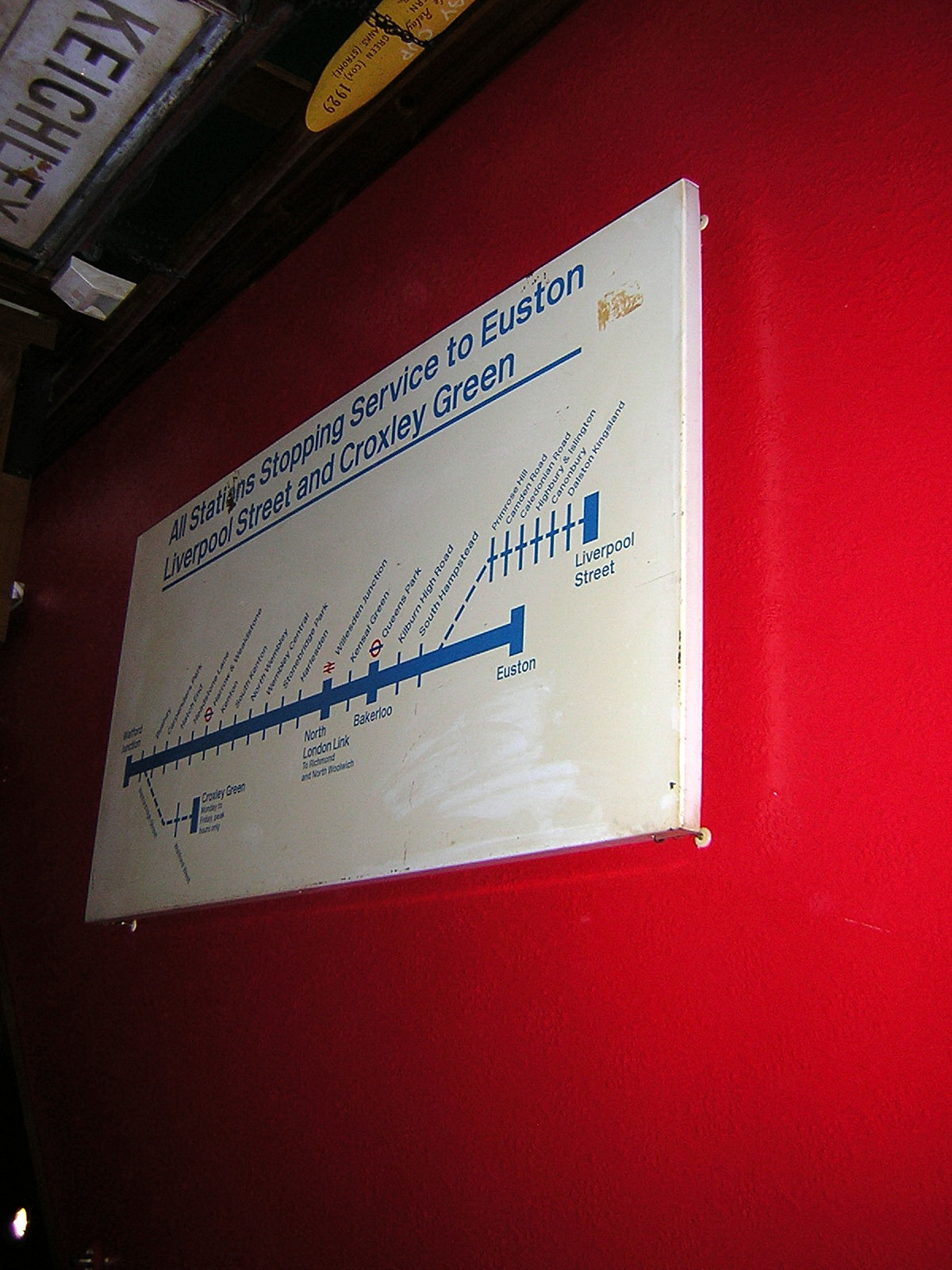 Saying:
This is truly obscure, but I couldn't resist posting it - I was in Stockholm earlier this week and was flabbergasted to find, attached to the ceiling of an "English pub" (which is incidentally a very common beast there) a NSE-era (ie blue and white) line diagram from Watford Junction, which showed the DC line service to Euston, plus peak-hour services to Liverpool Street (*not* Broad Street). The sign also showed Primrose Hill and the Croxley Green branch, so that might help in dating it.
And, of the pub:
It's called the Pig & Whistle, and it's in the shopping centre on Medborgarplatsen in Sodermalm. It's full of railway memorabilia, including a (non-functioning) Platform Tickets machine...
Dave Hillam piped up to say "IIRC there's also one in the Head of Steam pub at Euston.".
On the subject of the service itself, there were a couple of memories:
I remember in the 80s or 90s (after Broad Street had closed and the new offices built on the site) there was an occasional service from Liverpool Street via the newly-built Graham Road curve (north of Cambridge Heath) onto the NLL. I'm not sure whether it went to Richmond or whether it branched off onto the WCML to go to Watford Junction. -- Martin Underwood
Watford via Primrose Hill for a while, I think 3 trains per peak originally. The three-car units seemed very short in Liverpool St. By the end there was a single Watford - Liverpool St. in the morning, returning to Willesden Junction LL. Don't know if there was a corresponding evening service.-- Ken Wheatley (?)
The thread starts here if you want to follow it.